ROTARY SURFACE GRINDER
HR-800AND HORIZONTAL ROTARY SURFACE GRINDER
---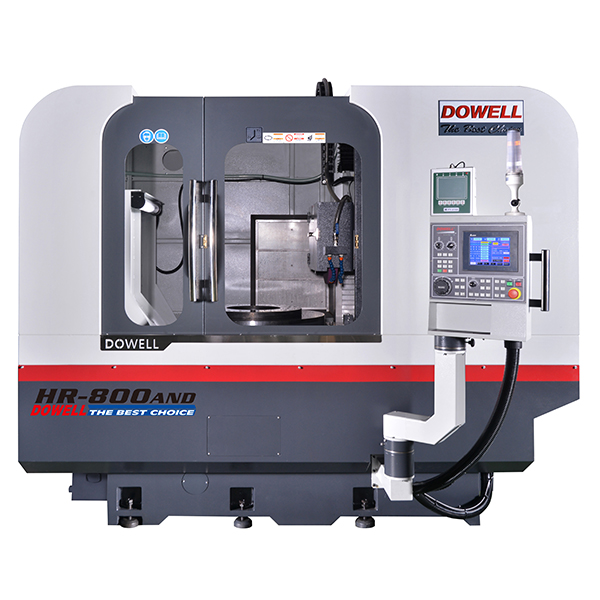 DESCRIPTION
UNIT
HR-800AND
Rotary magnetic chuck dia.
mm
800
Maxi grinding radius
mm
400
Distance of table surface to spindle surface center
mm
580
Rotary magnetic chuck speed
r.p.m.
10~60
Rotary magnetic chuck horse power
kw
4.5
Spindle motor
HP
15
Spindle speed (50/60Hz)
r.p.m.
1450/1750
Auto downfeed horse power
kw
Servo Motor 1kw
Vertical hand wheel downfeed per revolution
MPG/mm
x1, x5, x10 /
0.1, 0.5, 1
Vertical hand wheel downfeed per graduation
MPG/mm
x1, x5, x10 /
0.001, 0.005, 0.01
Wheel size (dia x width x bore)
mm
405x50x127
Net weight / gross weight (approx)
kg
7000/8000
Packing size (LxWxH)
mm
4000x2300x2450
※ The manufacturer reserves right to modify the design,specification mechanisms etc. without notice.
Si

Quariz

Ceramics

Ceramics Ring

Retaining Ring

Slitting Saws

Slitter Knife

Spindle parts
Meehanite Class FC30 casting with slide way provides high stiffness and wear resistance maintaining the accuracy of the machine.
Spindle lateral design creates stability during heavy cutting.
Vertical feeding uses 2 high stiffness and rigidity linear roller guides,
45CA(Blocksx6)/HR-800AND,65CA(Blocksx6)/HR-1000/1200AND allowing smoothly vertical feeding whilst maintaining high stiffness.
Small workpiece suction is accomplished by fine electrical magnetic chuck.
Coolant system

Magnetic filter

Auto. paper strip filter with magnetic separator and coolant system

Oil mist collector

Demagnetizer

On line wheel balance system (Manual)

SBS (Auto)

Digital readout

Inverter

Air-Conditioner