SURFACE GRINDER
DSG-818CAHD AUTOMATIC SURFACE GRINDER
---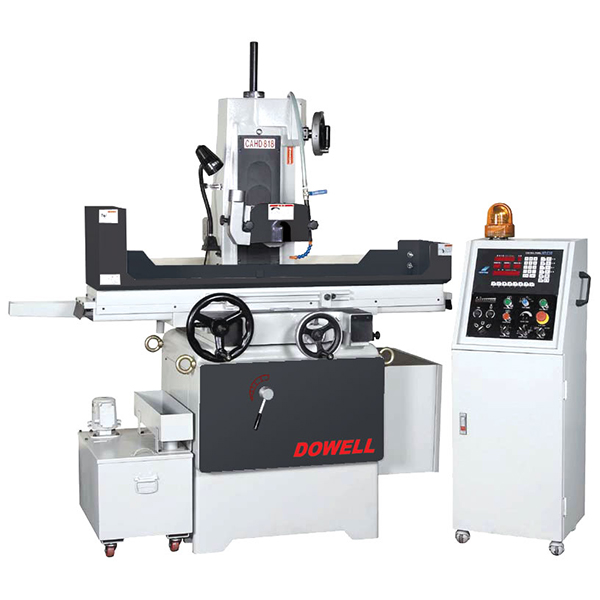 DSG-818CAHD
Fully automatic in 3 axis (x,y,z)
CAHD CONTROL PANEL
DESCRIPTION
UNIT
DSG-818CAHD
General Capacity
Table size (lxw)
mm
200x460
Max.grinding length
mm
475
Max.grinding width
mm
210
Distance from table surface to spindle center
mm
400
Standard mag. Chuck size
mm
200x450
Longitudinal Movement
Manual travel
mm
485
Hydraulic traverse
mm
485
Hydraulic feed (table speed) approx.
m/min
1~25
Cross Movement
Manual travel
mm
210
Auto cross feed
mm
210
Hand feed per revolution
mm
5
Hand feed per graduation
mm
0.02
Continuous cross feed (approx.)50/60HZ
mm/min
510/650
Increment cross feed
mm/min
0.5~10
Vertical Downfeed
Rapid traverse (approx.)
mm/min
230
Slow traverse (approx.)
mm/min
29
Hand feed per revolution
mm
1mm

Hand feed per graduation
mm
0.005mm

Auto downfeed rate
mm
0.001~0.099
Jog
mm
0.001
Pre-set spark out times
0.9(passes)
Grinding Wheel
Wheel size (diax width xbore)
mm
Ø180x13x31.75
Spindle speed (50/60HZ)
r.p.m
3000/3600
Motor
Spindle drive motor
HP
2
Hydraulic motor
HP
1
Cross feed motor
W
25
Elevating motor
W
40
Weight
Net weight / gross weight (approx.)
kg
1200/1380
Packing Size
Length × width × height
mm
1700x1600x2200
※ The manufacturer reserves right to modify the design,specification mechanisms etc. without notice.
Grinding wheel
Wheel flange with extractor
Balancing arbor
Diamond dresser and base
Working lamp
Leveling plate
Leveling screw & nut
Tool box with tools
Operation manual & Inspection report
Touch-up paint
Machine structure is manufactured from high quality Meehanite class FC cast iron.
Direct type spindle use high precision P4 bearing and go with V3 grade spindle motor provide excellent rigidity and stability.
Saddle guide way use double V designed, coated with Turcite-B and hand-scraped provide smooth movement.
Auto lubrication system use pump for forced cycle lubrication.
Plunge and surface grinding mode are standard.
Vertical feed driven by step & AC servo motor.
Feeding speed selection: JOG/slow/Rapid.
Permanent magnetic chuck

Electro magnetic chuck

Demagnetizer

Inclinable permanent mag. Chuck

Coolant & Dust unit

Magnetic separator and coolant system

Auto. Paper Strip Filter with coolant system

Auto. Paper strip filter with magnetic separator and coolant system

Inverter

Demagnetizer

Digital readout

On line wheel balance system(Manual)

Flange

Angle sine dresser

Precision universal angle vise

Tangimatic dresser

Manual overhead dresser